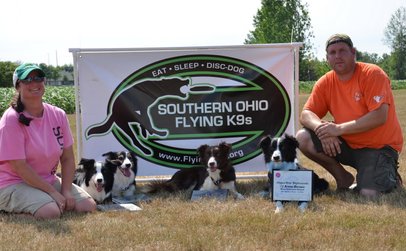 Greg and Danielle met at a frisbee competition in 2009. At that time Danielle had 2 Border Collies and Greg had 4, all of which were rescued in some way. Rescue is still very important to Greg and Danielle and they still rescue and foster regularly. The extensive experience with rescue dogs has helped contribute to their knowledge in exposing puppies to a variety of situations.
Once Greg and Danielle began their lives together they have added many more dogs and 4 dog based companies.
The four companies are:
1. Train Your Pup - Dog training also offering; daycare and boarding.
2. Splash Your Pup - Pool Rental, hydromassage, and competitions.
3. Stalk and Awe Geese Management - Use of Border Collies to haze geese from properties.
4. Team Zoom Canine Entertainment - Canine performance company performing at fairs and festivals.
Every dollar that comes into the home comes in some way from a dog. Because of this their dogs have the respect of a work dog and the love of a pet.
Not only are Greg and Danielle true dog professionals, but both are CCPDT trainers. Danielle specilized is dogs with behavioral issues and performs around the country with her dogs at a variety of fairs and festivals. Greg specializes in teahcing owners how to create desired behaviors in their dogs, owns and operates a goose management company, and is an open competitor in USBCHA herding.
Greg and Danielle chose to start breeding to improve the breed and accent specific qualites for their 4 dog based companies. Their primary focus is to create dogs to benifit not only business, but also well rounded stable dogs for deserving homes.